Watchmaker: Masahiro Kikuno

Published on Feb 01, 2018 by Sachin.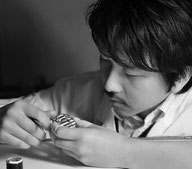 Figure 1: Masahiro Kikuno
Watchmaker Masahiro Kikuno Japan
This documentary by NHK World, Japan features Masahiro Kikuno, an independent watchmaker from Japan. Masahiro is on a six months project to make a watch inspired by Myriad year clock1 using the traditional Japanese technology(without relying on modern day watchmaking technologies)
The Myriad year clock belongs to a category of Japanese clocks called Wadokei2, when fully wound can work for a year without a need of another winding. The clock was completed in 1851 by Japanese inventor Hisashige Tanaka. The Myriad year clock is on display at National Museum of Nature and Science, Tokyo.
In this documentary, Masahiro Kikuno who is the youngest member of AHCI3 is preparing for the BaselWorld4 Time piece trade show to display his unique master piece. Experience his achievements(when the watch first starts to tick) and the problem(when one of the pin is lifted off the track while the arms move) he faced during the course of watchmaking. Truly an inspiring video.